Mesh Complications Patient Story 39
Vaginal Pain following TVT sling procedure
Mesh Complications: Vaginal heaviness and pain and right and left lower abdominal pain
Treatment: A transvaginal and laparoscopic approach to removal of 98% of the TVT sling (Photos 1 & 2)

The patient is a 53-year-old female from Chicago, IL who had surgery in 2009 by a urogynecologist. The surgery included a total vaginal hysterectomy (TVH), a posterior repair, and an Advantage (TVT) Boston Scientific Sling (Photo 3) for urine leakage. After this surgery, she had persistent vaginal pain, which was exacerbated with sitting and bending at the waist. In 2010,the same urogynecologist did a partial sling removal by making a small incision in the vagina underneath the urethra. The partial removal did not help the pain, and she was referred to a pelvic pain specialist who performed two pudendal nerve blocks. The patient reported that the blocks did not help.
She saw a second urogynecologist who referred her to an aggressive physical therapist who performed NINE months of internal massage. When physical therapy was not successful, the urogynecologist then performed 12 painful trigger point injections over a period of four to five months. The frustrated patient sought the help of Dr. John Miklos of Atlanta Urogynecology Associates in Atlanta, Georgia. The patient was told by a urogynecologist that to remove such a sling was a very dangerous operation and could even result in quote, "Losing your bladder." The patient came to Atlanta where surgery performed without complications.
Dr. Miklos performed the surgery both a vaginally and laparoscopically. The sling was identified on the patient's right side first and dissected away from the pubic bone (Photo 4). This portion of the sling on the right side was resected for removal (Photo 5). The sling was freed up on the left side (photo 6) and then resected for removal.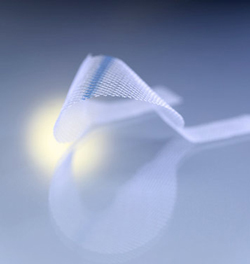 Figure 1:
Right and left portions of the removed sling