Mesh Complications Patient Story 15
Groin, Inner Thigh, Labia and Vaginal Pain after TVT sling
Mesh Complications: Left sided groin pain, inner thigh, and labia pain. Anterior vaginal wall pain as well as painful intercourse.
Treatment: Vaginal & Laparoscopic approach to complete removal of TVT sling

The patient is a 39- year- old female who presented to Drs. Miklos and Moore with left sided inguinal, left labia, and left sided inner thigh pain. She had undergone surgery only five weeks prior in Colorado by a Urogynecologist.
Her original surgery included:
TVH (total vaginal hysterectomy)
Uterosacral vault suspension
TVT sling
Her symptoms 5 weeks after surgery:
Left inguinal pain
Left labia pain
Left inner thigh pain
Anterior vaginal wall pain
The original surgeon's operative report revealed the bladder was punctured using the TVT needle at the time of delivery of the TVT sling on the patient's left side.
Dr. Miklos comment: "This is not an unusual intra- operative complication and rarely causes any problems post operatively." The surgeon states she moved the needle further lateral to the initial site of the TVT needle puncture (i.e. further left) to avoid puncturing the bladder again.
Drs. Miklos and Moore explained to the patient that typically a sling can be removed without trauma at four-six weeks after surgery. This surgery can usually be performed by making a small incision in the vagina underneath the area of the recently placed TVT, dissecting the sling away from the urethra, grasping the sling and simply pulling it out. However, after six weeks the scar tissue is so significant we must now approach through incisions in the abdomen and the sling must be dissected away from all of the newly formed scar tissue which is now securing the sling in place behind the pubic bone and up into the abdominal wall.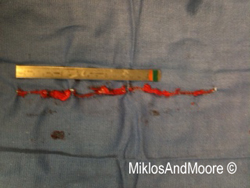 Dr. Miklos & Moore attempted removal from below and found the sling was so severely scarred in place they needed to convert to a laparoscopic approach (mini incisions) and removed the sling from above (FIGURE 1). The surgery took approximately two hours and 30 minutes the patient spent the night in the hospital and was subsequently discharged the next day. She returned to Colorado 72 hours after surgery. On the first day after surgery the patient already felt an improvement in the tension and pressure inside of her vagina. She continues to do well postoperatively.
Click here to find out more about TVT Mesh complications.
Click here for related patient stories