Mesh Complications Patient Story 14
Vaginal Mesh Extrusion & Vaginal Pain following TVT Sling
Mesh Complications: Pain and vaginal bleeding with intercourse.
Treatment: Transvaginal approach for removal of extruding mesh

The patient is a 52- year- old female who originally had surgery in 2002 by a urologist in Atlanta, GA. In 2005, she came to our office with complaints of left sided suprapubic and left sided labia pain since the surgery three years ago. Examination revealed reproducible pain with palpation of the sling. Cystoscopy revealed the TVT mesh sling in the bladder. She was taken to surgery by Drs. Miklos & Moore and underwent a laparoscopic removal of the sling from the bladder. Postoperatively she did well until 2011.
In 2011, she returned to our office for vaginal bleeding and pain from the vagina with each episode of intercourse. Examination revealed an extrusion of mesh through the vaginal skin. After an informed consent, she was taken to the operating room and in a 20-minute surgery she had the extruding mesh removed. The mesh seen below is approximately two centimeters.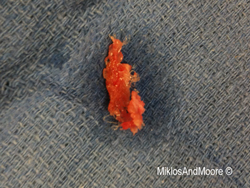 The excised extruding portion of the TVT sling mesh removed from the vagina of a sexually active woman.
Click here to find out more about TVT Mesh complications.
Click here for related patient stories